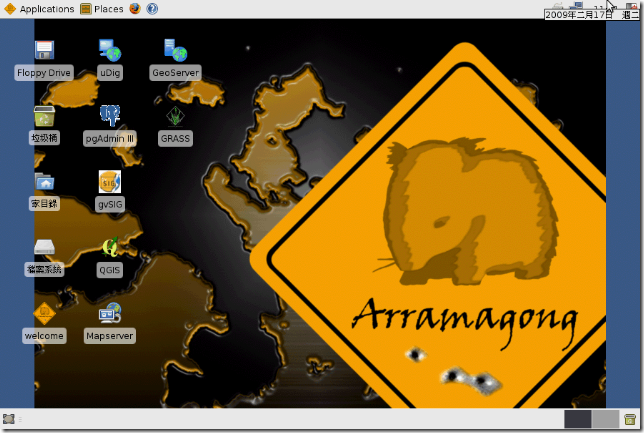 Sydney, Australia. 6 September 2009. http://2009.foss4g.org
The Arramagong Live DVD / GISVM email list has been running hot last week, with ~ 15 people helping write install scripts for projects in order to meet our feature freeze deadline tomorrow, Monday 7 September.
The list of linux projects currently being packaged for the FOSS4G LiveDVD are:
PostGIS ,GeoServer ,Mapserver ,GRASS ,Qgis ,gvSIG ,uDig ,Open Layers ,GeoNetwork ,Open Jump ,Deegree ,GpsDrive ,mapnik ,MB System ,pgRouting ,52 North Sensor Observation Service ,Mapfish ,Marble.
Our next steps are:
Package up the windows installers for the Live DVD. Please tell us what installers are available, and where they are located, by updating the following ticket: http://trac.osgeo.org/osgeo/ticket/424
Write introductory documentation for all projects
Test the image and iron out any issues we find before users find them. (I'm hoping communities will step up and test their favourite applications starting next week.)
Plus lots of little things
Details for getting involved are at: http://wiki.osgeo.org/wiki/Live_GIS_Disc and we hang out at irc://freenode.net#foss4g
Live DVD Timeline
| Date | Date | Milestone |
| --- | --- | --- |
| 7 Sep 2009 | in 1 day | LiveDVD Feature Freeze |
| 11 Sep 2009 | in 1 week | LiveDVD Beta Release |
| 18 Sep 2009 | in 2 weeks | LiveDVD Final Freeze |
| 20 Sep 2009 | in 2 weeks | LiveDVD Final Release & sent to printers |
About GISVM
GISVM is a Free(dom) and ready to use anywhere Geographic Information System Virtual Machine. Based on the amazing Virtualization technology it can be used on almost any operating system environment and is intended to be a hassle-free installation option for anyone that needs a ready to use GIS solution.
About Arramagong Live DVD
The Arramagong Live DVD provides a stack of most of best Geospatial Open Source software, pre-configured with sample data. It is based on the XUbuntu linux operating system and also contains windows installers. A FOSS4G 2009 release of Arramagong will be given to all delegates at the FOSS4G conference. It has been built by LISAsoft in conjunction with the Open Source Geospatial community.
About FOSS4G
FOSS4G is the international Free and Open Source Software for Geospatial conference, which comes to Sydney, Australia, 20-23 October 2009. FOSS4G offers presentations, workshops, demos, an install-fest, and a code sprint. It is presented by the world's best Developers, Policy Makers, Sponsors and Geospatial Professionals and includes the latest geospatial applications, standards, government programs, business processes and case studies. Topics include mobile platforms, location based applications, crowd sourcing, cloud computing, development, spatial standards, integration of cross-agency data, Spatial Data Infrastructures, Sensor Webs, Web Processing Services, Integration of Open Source and Proprietary Software and more.
Upcoming FOSS4G milestones
14 Sep 2009, Final program available
21 Sep 2009, Poster Submission closes
20 Oct 2009, FOSS4G Workshop
21-23 Oct 2009, FOSS4G Presentations and Tutorials
24 Oct 2009, FOSS4G Code Sprint
Media Sponsors
---
For more information or to keep informed from the FOSS4G Organising Committee, join our email list or twitter feed at: http://2009.foss4g.org/about_us/
or contact:
Cameron Shorter, Chair of the FOSS4G Organising Committee and Geospatial Systems Architect at LISAsoft
tel +61-2-8570-5050
c a m e r o n . s h o r t e r @ l i s a s o f t . c o m